Services
Innogen Technologies have many verticals which are focused on providing customer a complete service to our Retail Clients:
Cloud Based Hosted Services
Specialised Consulting Services
Customer Journey Focused Module Expansion Packages for Retail.
Environment Builds
Cloud Based Services
IInnogen technologies provides a complete and unique hosted service to our customers. Using Predefined deployed services, Innogen have the ability to deploy a pre integrated product stack quickly into a customer environment.
This allows for quicker go to market process for an organisation, reducing the amount of time required for integration requirements between preconfigured Oracle Systems. These include:
RMS
Oracle Point of service
Oracle BackOffice
Oracle CentralOffice
Oracle Store Inventory Management
Being a complete management service, all aspects of Centralised Hardware procurement, Maintenance cost and support are drastically reduced as Innogens Internal Cloud based support team will conduct these duties
for the client. This would also include any upgrade requirements to Hardware and or software.
Our Typical Cloud based architecture model for store implementation shows how applications will be hosted
in Innogens cloud Solution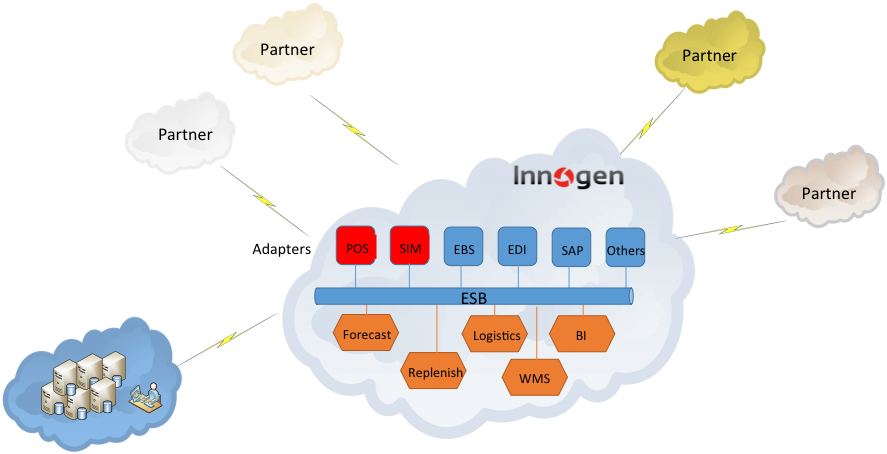 Specialised Consultancy Services
Innogen Consultants are and trained and certified in a broad area of Retail technology. Our consultants form integral part of our organisation and intern our clients organisations. we work alongside our clients to define their specific business needs, and then with our expertise we fine tune the goals, strategy and metric for the programme.
Having been involved in the Retail industry for many years, Innogen Technologies prides itself on being able to define delivery models for a retail projects or programmes being conducted by our clients. With defined objectives and deadlines, Innogen are able to construct a delivery plan and define the specific roles associated in order to have the programme delivered successfully and within timeframes.
Trained to deliver a project from initial concept to final go-live and support, our consultant utilise industry standard and best practises and keeping in line with our implementation methodologies are able to detect potential risks and vulnerabilities before they occur.
Innogen Technologies consider their consultants as champions of the industry.
Customer Journeys Expansion Modules
Innogen classes itself as an innovative service provider. With our many years of experience working within the retail industry we have identified functionality which is required in the market place.
Innogen have therefore invested in developing extensions to the exiting market solutions to provide Retailers a complete end to end retail journey for their customers.
Repair management
Working with Clients over the past 5 years, a need has been recognised across the board for a comprehensive repair solution. One which would allow the user to be able to process and submit a repair for an item into their repair department. The need differs from client to client. Some require a charge to be applied to transaction others offer a free service. Some require a warranty check to be carried, which would determine if a charge is to be applied.
Currently what is missing in the market place is an end to end solution which allows for a user
to do the following:
Submit a repair from an in store system
Repair Diagnostics tool
check if an item is in warranty before determining if a charge is to be applied
Process a Loan Item as part of the repair
successfully maintain in store inventory levels for a repair
alert the custo mer to the status at each stage of the repair process
Track a repair from either online page or from a system in store
The truly unique feature of Innogen's repair management suite is the ability to give control to the client in assisting them with Diagnosing a fault, this will allow for more accurate repair process to occur, and to also reduce the amount of repairs which have been mis-diagnosed as faults being returned to the repair centre.
The diagnostics tool is flexible enough to allow the client to build a series of questions and suggestions which will lead to an eventual end point of diagnosis. Depending on the options selected it will follow a path defined to an eventual conclusion, indicating whether there is a charge should be associated.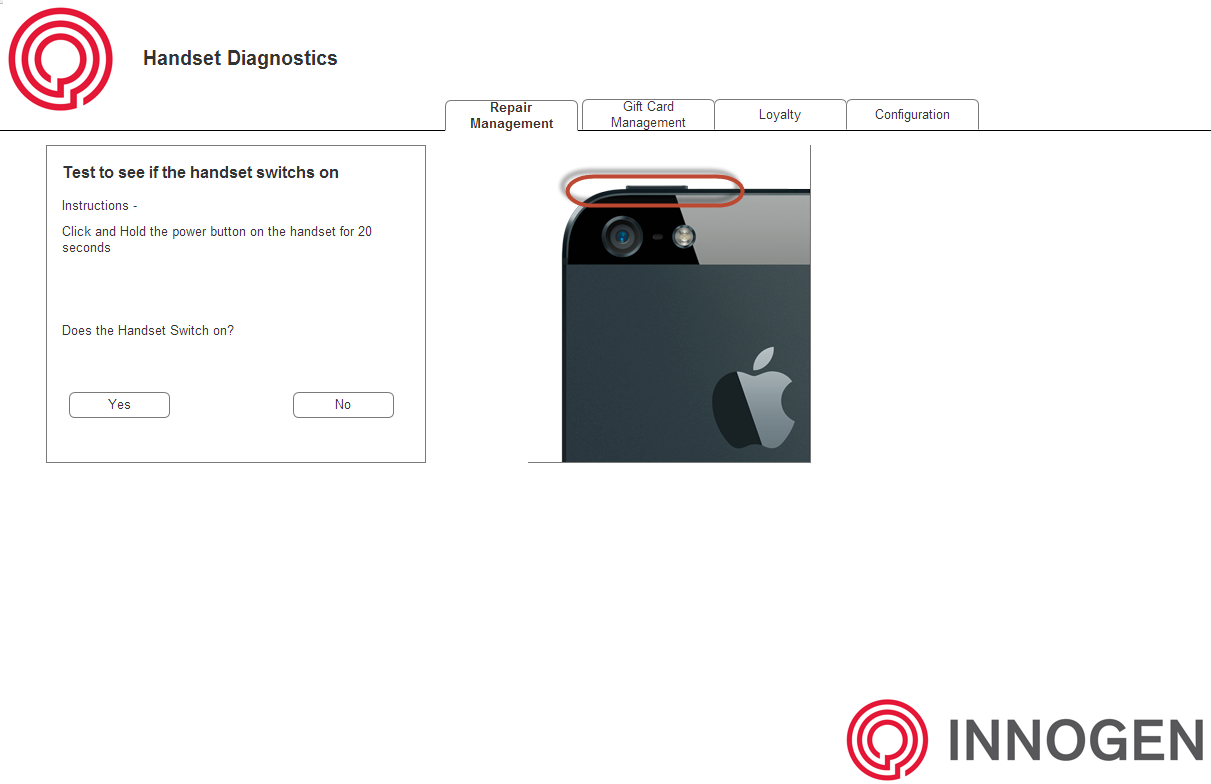 Gift Card management
Innogens Gift card management module utilises the existing functionality in Oracle retail, but adds additional control to how Gift Cards are managed. The following additional functionality is available:
Ability to define gift card ranges
Ability to control using a GUI gift cards abilities
Restrictions on purchasing items and MMG with Gift Cards
Restrictions on amounts used on a specific item/MMGs/Brands
Capture of specific gift card detail (e.g. Security codes)
Validation of Gift cards strings (creation and redemption)
Option to create from a sale (Gift Card as Item) or to preload Gift cards
Gift Card Management Suite – View, update, reporting, transactional History
Omni Channel Use
Pre integration to oracle retail.
an example of the Gift card history visibility is presented in the below screen –